The preferred glow plug for your engine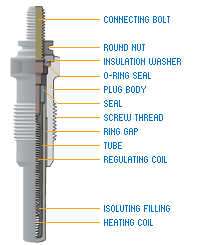 EYQUEM stands out on the glow plug market by supplying pre-and post-heating plugs that meet the latest technological developments in direct injection engines. EYQUEM offers a wide range of innovative and high-performance glow plugs in accordance with the required specifications of car manufacturers.
Specific models have been developed for the common-rail engines (Hdi, Dci, Cdi, Tdi, Tdci) being installed in today's vehicles, i.e. tomorrow's vehicle park. Using a state-of-the-art technology even for first generation Diesel and Turbo Diesel vehicles, EYQUEM glow plugs provide a greater reliability and smoother running.
With a large number of double filament pre and post heating models, the EYQUEM range ensures a maximum coverage of the international diesel market.
EYQUEM glow plugs have an innovative 3-phase system that allows them to work:
before starting,
during the start phase
after starting and once the engine is started and running (in boost operation) which ensures the engine reaches its ideal operating temperature faster.
EYQUEM offers you a guarantee of reliability and performance:
Quick starting (3-5 seconds) even at temperatures of -20° thanks to the diameter of the glow tube reduced to a minimum.
Increased performance and protection of the engine. Elimination of cold start knocking. The post-heating periods are extended (up to 6 minutes) depending on the vehicle's original equipment and engine idle stability.
Optimized fuel consumption due to better and more regular combustion of fuel
Reduction in pollutant emissions by up to 40%. Post-heating ensures both better fuel combustion and a quieter engine during the heating phase.
The EYQUEM glow plugs are manufactured in Europe, from the raw material to the final assembly, and are submitted to constant quality controls throughout the manufacturing process.